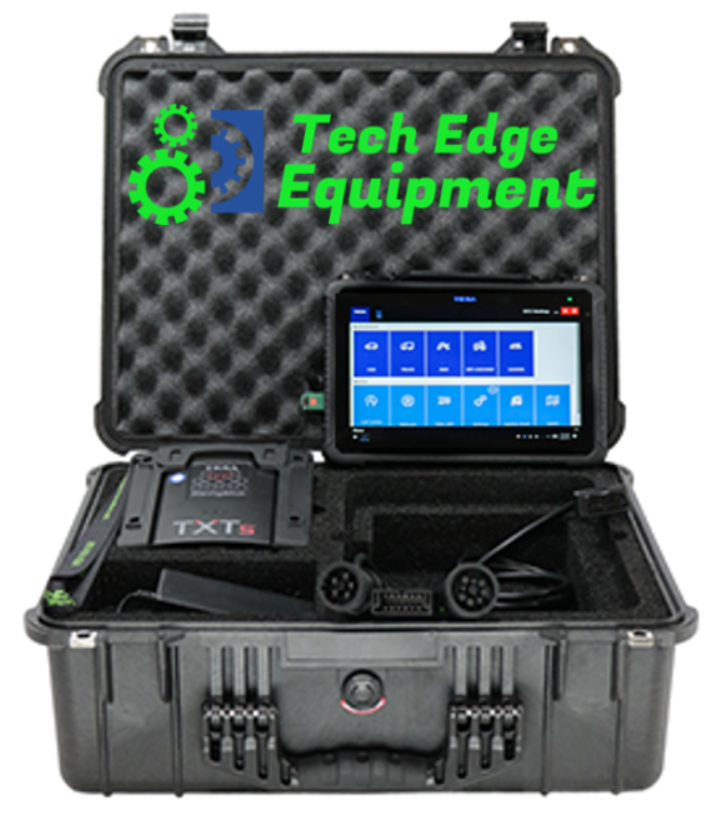 TEXA HEAVY DUTY TRUCK PLATINUM TABLET PACKAGE 
$7,695.00
When it comes to dealer level diagnostics, accept no substitutes. This TEXA truck platinum tablet  diagnostic package will do what you want it to do: Dealer level functionality on virtually anything you run across. From reading and troubleshooting codes to performing forced regenerations and injector cut-out tests, so the TEXA is the tool for the job and will help you diagnose the problem faster because time matters!
Our TEXA packages are completely different than TEXA packages offered elsewhere. You won't find these available anywhere else. We can customize any TEXA package. Contact us direct to get a custom quote on any TEXA package!  
THIS TECH EDGE PACKAGE INCLUDES:
 FULLY RUGGED 10" LTE READY IP65 COMPLIANT TABLET
TEXA IDC5 PREMIUM TRUCK SOFTWARE LICENSE WITH USB BACK UP
TEXA TYPE II COMPLIANT AMERICAN TRUCK CABLE
TEXA OBDII CABLE
1 YEAR TEXA TRUCK SOFTWARE UPDATES
CUSTOM DESIGNED RUGGED IP67 CASE WITH CUSTOM FOAM INSERT
The TEXA is a ground breaking software application that gives you dealer level functionality inside an easy to use prorgam. Here is a partial list of what you can do with this tool
View live data
View codes, including actual OEM flash codes
Built-in troubleshooting & wiring diagrams
Perform bi-directional commands such as forced regeneration, DPF accumulator resets, injector cut-out tests, change engine parameters, EGR vavlve calibrations, and more
TEXA also has modules for other market groups, such as off-highway equipment, powersports, automobile, and much more.
The TEXA software was just updated to include even more support for older model trucks (1993 and older) and brand new trucks. There is also more off-highway functionality.
FEATURES:
 LIVE DATA, READ & CLEAR CODES, INJECTOR CODING, RELATIVE COMPRESSION, SPEED LIMITER CHANGES, CYLINDER CUT OFF, DPF/SCR REGENERATION, EMISSION RESTES, WIRING DIAGRAMS, MAINTENANCE RESETS, FAULT CODE ASSISTANCE AND MUCH MORE! 
COVERAGE FOR LIGHT, MEDIUM, AND HEAVY-DUTY DIESEL
ALLEGRO, BLUE BIRD, CATERPILLAR, CHEVROLET, E-ONE, FREIGHTLINER, INTERNATIONAL, IVECO, KENWORTH, MACK, MCI, PETERBUILT, STERLING, TEMSA, VAN HOOL, VOLVO BUS, VOLVO TRUCKS, WESTERN STAR, MERCEDES BENZ CHEVROLET, DODGE, FORD, GMC, HINO, ISUZU (NORTH AMERICA) MITSUBISHI FUSO, UD TRUCKS (NISSAN DIESEL). 
TRAILER:
THERMO KING, BENDIX, CARRIER TRANSICOLD, HALDEX, MERITOR – WABCO, WABASH.

If you haven't found the answers you were looking for,
Contact us for further information Diagnostic Support – Training – Product Information – Sales – Product Management