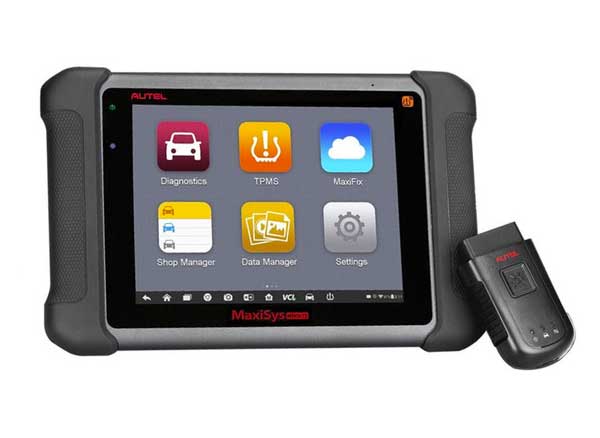 MaxiSys MS906TS
MaxiSys MS906TS is the latest addition to the MaxiSys product line of advanced wireless diagnostic devices integrated with the TPMS antenna module. The device is based on the Android operating system featured with the best possible coverage of OE-level diagnostics and TPMS integration. Utilizing the powerful Exynos 5260 6-core processor (1.3 GHz quad-core ARM Cortex-A7 + 1.7 GHz dual-core ARM Cortex-A15), an 8" capacitive HD touch screen, and long-distance wireless communication, the MaxiSys MS906TS efficiently provides comprehensive vehicle diagnostics and analysis along with universal TPMS solutions.
Wireless TPMS & Advanced Diagnostics System
Operating on the Android navigation system, the MS906TS provides amazingly fast sensor programming and diagnostic scan functions with its powerful running speed and large 32 GB solid state hard drive. The system also features the latest AutoVIN technology to identify vehicles in one touch as well as its exclusive AutoScan function. These features allow you to easily acquire vehicle information, scan all ECUs and run diagnostics on selected systems.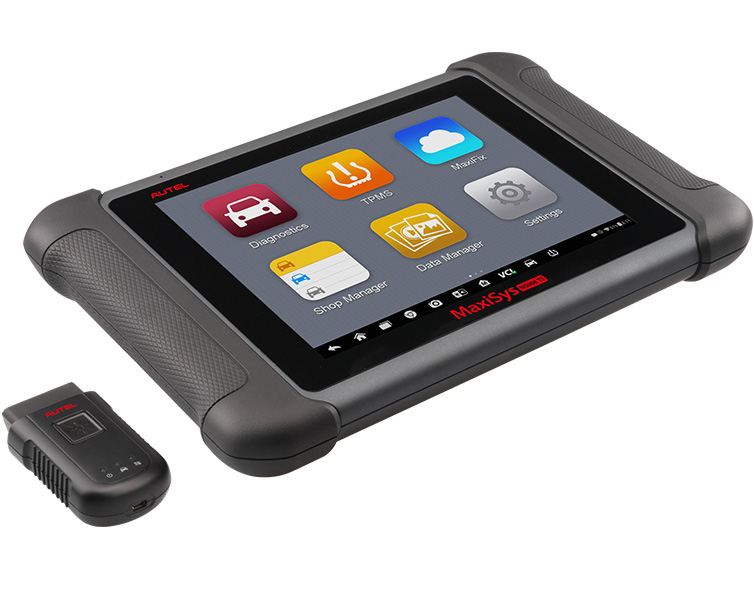 Optional Compatible Accessories
Featuring the best possible coverage of OE-level diagnostics and ECU coding capability, the MS906TS also supports add-ons like an oscilloscope and inspection camera to perform more extensive professional testing.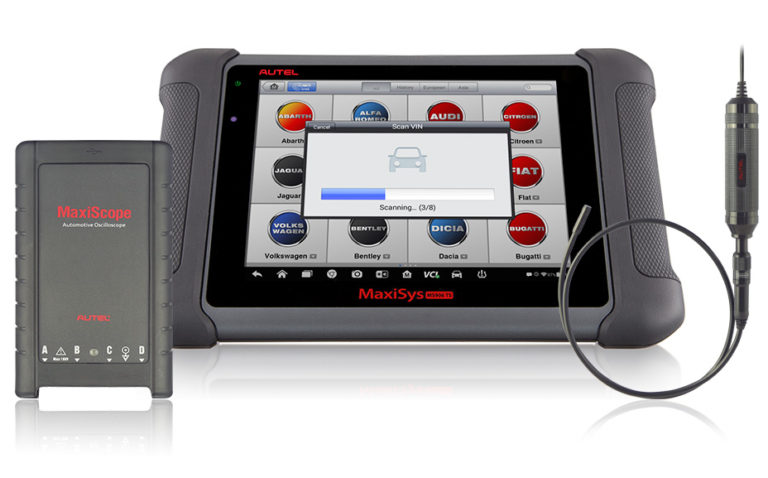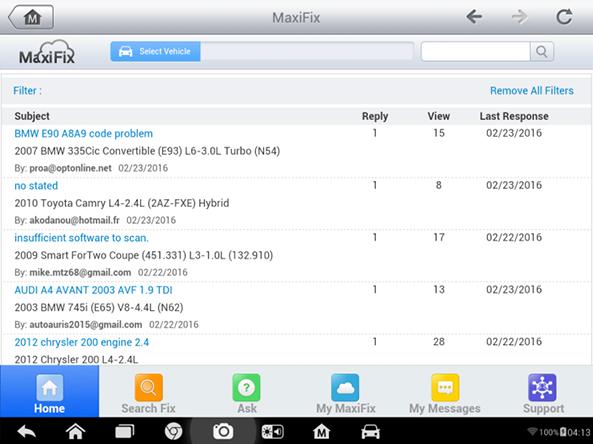 MaxiFix, Autel's online community of global professional technicians, offers a constantly expanding database which includes industrial professionals from around the world offering thousands of successful Fix & Tips that are shared, discussed and updated every day. This feature brings essential resources to your desktop in real time, granting quick and easy search of diagnostic and repair procedures, tips, and advices.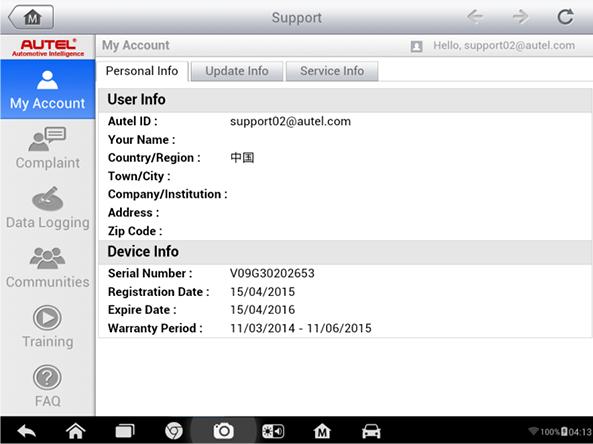 The Support module helps Autel users keep track of their devices by saving product update, repair and complaint records; it also provides a platform for communicating with support personnel directly through Data Logging sessions, and with other Autel users through specific product community channels.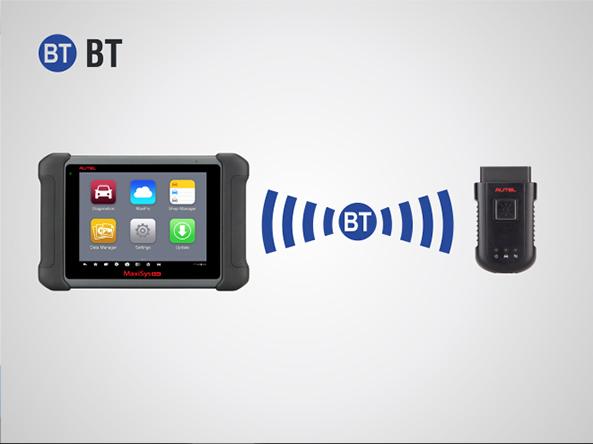 Enhanced wireless connectivity between the display tablet and VCI device allows greater mobility and ease at work.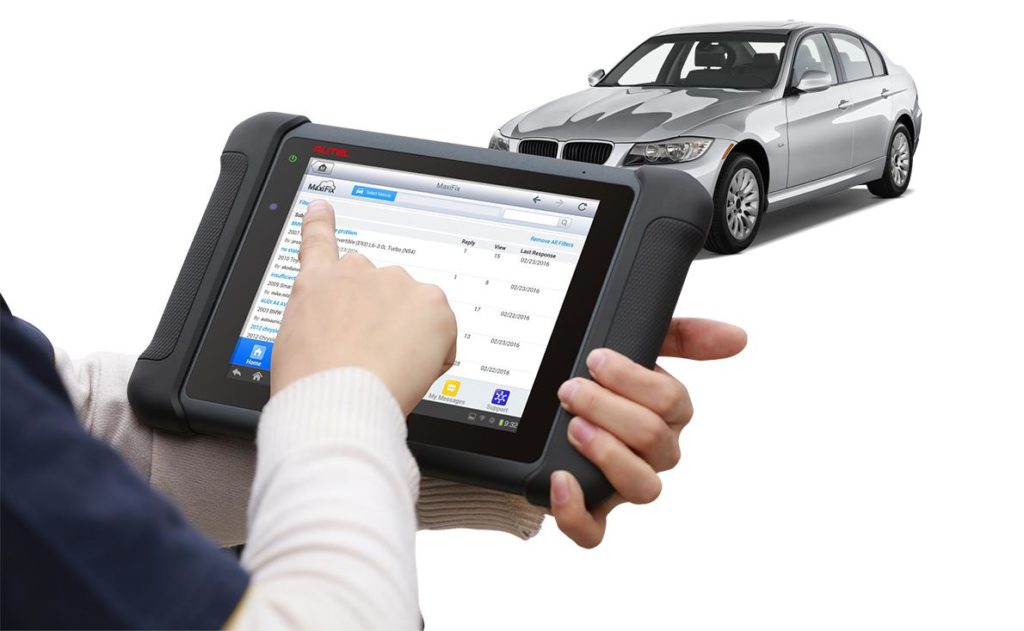 Features

• Extraordinarily powerful Samsung Exynos Hexa-core processor 
• 8.0" 1024×768 LED-backlit glossy Multi-Touch capacitive display with IPS technology for ultra-mobility 
• Internal reliable 32GB SSD for better performance 
• Built-in 8-megapixel rear camera with autofocus and flashlight 
• Integrated TPMS antenna module for performing comprehensive TPMS service 
• 802.11b/g/n Wi-Fi to access your favorite web resources 
• Unique ergonomic design with rubberized outer protection and a rugged internal housing 
• Built-in rechargeable lithium-polymer battery for up to 14 hours of continuous operation 
• USB, audio and auxiliary ports make it easy to connect accessories 
• Open source Android Operating System for fast boot-up and multitasking 
• Easy and intuitive navigation makes finding what you need simple and fast 
• The most extensive complete system coverage for more than 80 US, Asian and European makes and models 
• Exceptional OE-Level functionality from comprehensive OBDII diagnostics & services to advanced ECU coding 
• Complete capabilities for codes, live data, active test, ECU information, adaptation, matching, coding etc. 
• Smart AutoVIN technology for identifying vehicle easily 
• Uniquely integrated TPMS service application designed for triggering known OEM TPMS sensors, programming Autel MX-Sensor and performing TPMS sensor relearn procedure 
• Automatic system and software updates with real-time push message notifications via internet 
• Instant remote control tech support anytime, anywhere 
• Cloud-based MaxiFix online community provides a vast database of diagnostic and repair tips and proven filed fixes 
• Interactive Data Logging sessions enable direct contact with Autel Technical Support for first-hand troubleshooting of diagnostic bugs and errors 
• One-stop multitasking designed for ideal management of workshop operations to keep all data files, customer info, and vehicle records well organized 
• Enhanced wireless connectivity between the display tablet and VCI device allows greater mobility and ease at work 
• Convenient data management system for managing internal program applications and reviewing data 
Operating System Android™ 4.4.2, KitKat 
Processor Samsung Exynos T5260 6-Core Processor (1.3 GHz quad-core ARM Cortex-A7 + 1.7 GHz dual-core ARM Cortex-A15) 
Memory 2GB RAM & 32GB ROM 
Display 8.0″ LED capacitive touch screen with 1024x768P resolution 
Connectivity Wi-Fi (802.11 b/g/n), USB: 2.0, Mini USB 2.0, Wireless BT V2.1+EDR, Class1, HDMI 1.4a, SD Card (support up to 32 GB) 
Camera (rear) Rear-facing, 8.0 Megapixel, AF with Flashlight 
Sensors Gravity Accelerometer, Ambient Light Sensor (ALS) 
Audio Input/Output Microphone, Single Speaker, 3-Band 3.5 mm stereo/standard headset jack 
Power and Battery 11000 mAh 3.7 V lithium-polymer battery, Charging via 12 V vehicle power 
Input Voltage 12 V (9-35 V) 
Power Consumption 5 W 
Operating Temperature -10 to 55°C (14 to 131°F) 
Storage Temperature -20 to 70°C (-4 to 158°F) 
Housing Rubberized outer protection and rugged internal housing 
Dimensions (W x H x D) 270.8 mm (10.0") x 176.0 mm (6.9") x 36.0 mm (1.4") 
Weight NW: 1.10 kg (2.42 lb.) 
If you haven't found the answers you were looking for,
Contact us for further information Diagnostic Support – Training – Product Information – Sales – Product Management