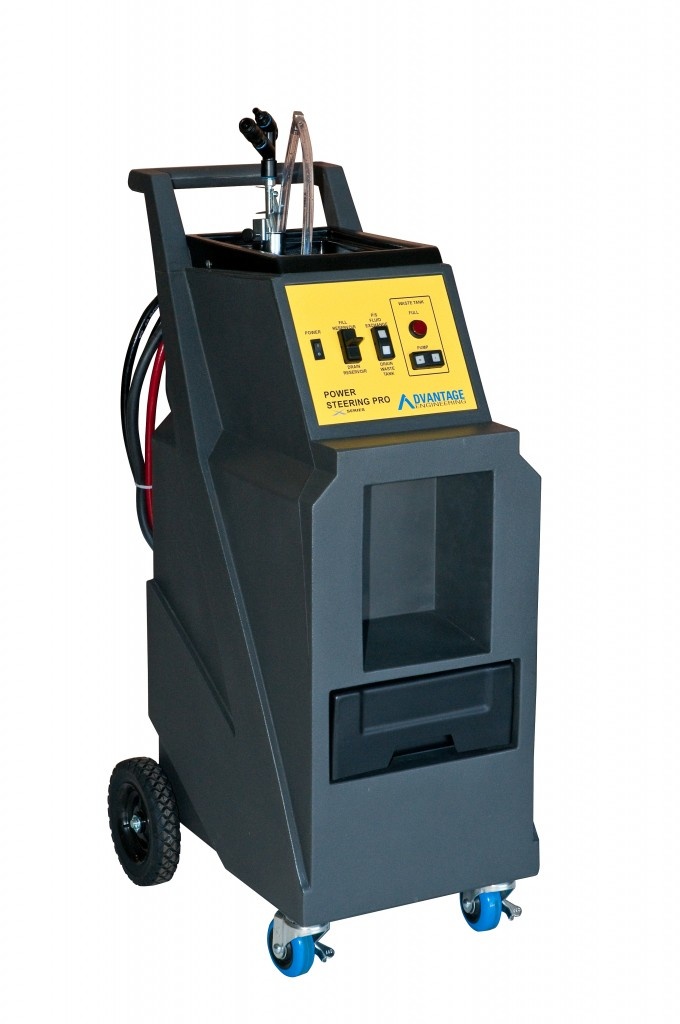 Quick and Efficient
Fully Automatic – Designed for one-man use
Simultaneously removes old fluid while adding new fluid
Extends power steering component life and efficiency
Universal and flexible adapters included
Rugged, heavy-duty industrial composite construction
Accepts new fluid containers from .5 to 2.5 U.S. gallons
Six (6) U.S. gallon waste tank
When was the last time your customer had the power steering fluid in their vehicle changed?
 Extend power steering component life and power steering system efficiency with a periodic fluid exchange. The ADVANTAGE ENGINEERING POWER STEERING PRO is designed for one-man use. Draining, topping, and exchanging fluid functions are controlled via toggle switch. Secure and adjustable adapters fixed to the reservoir allow one man operation. 
Why Power Steering Pro from AEC?
 HAEC Group Inc. proudly designs and builds all of its equipment in it's Santa Ana, CA facility utilizing locally sourced components whenever possible. We stand by our products with a limited 1 year warranty, ongoing training and responsive service staff. 
 Rugged, heavy-duty industrial composite construction with ergonomically correct working height
Accepts new fluid containers from .5 to 2.5 U.S. gallons
Six (6) U.S. gallon waste tank
High rate flow pump
Easy to use, one man operation
7.5′ external nylon reinforced Hytron hoses
Power requirement: 12 VDC
8" rigid rear wheels
3.5" swivel casters with brakes
One (1) year limited warranty

Weight (uncrated): 
• 95 lbs (43 kgs) 
Dimensions: 
• 44" (111 cm) high
• 24" (61 cm) deep
• 8" (46 cm) wide 
If you haven't found the answers you were looking for,
Contact us for further information Diagnostic Support – Training – Product Information – Sales – Product Management