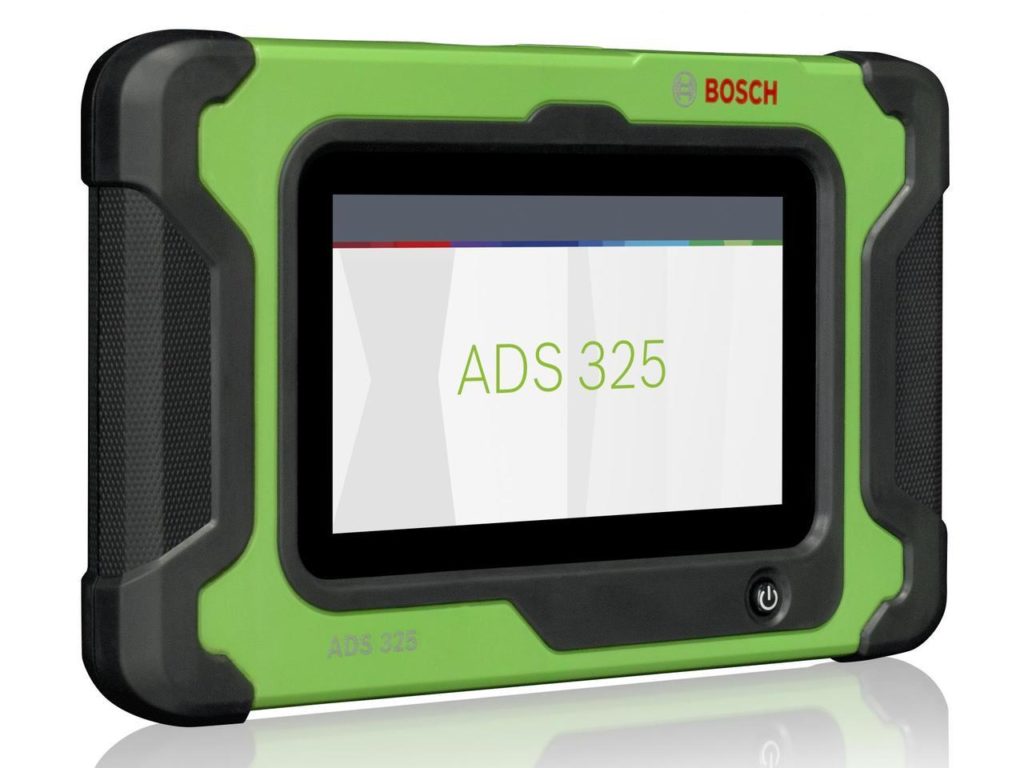 Bosch ADS 325
Diagnose, research and repair, all-in one.
Everything you need to diagnose, research, and repair vehicle issues at your fingertips with Bosch's new Automotive Diagnostic Solutions, the ADS 325 and ADS 625.
Engineered and assembled in the USA by Bosch, the new Bosch ADS 325 and 625 are automotive scan tools designed for technicians, by technicians.  Knowing what technicians need to get the job done promises a scan tool that will provide you with the powerful software to diagnose the simple to most complex vehicle issues for the cars and trucks in your shop every day.  Armed with repair information at your fingertips, within the software, and online, there's no limit to the problems you'll solve and the time you'll save.  And with an easy-to-use interface, you won't waste time trying to navigate to find what you need. 
Vehicles are changing. Diagnostics will become increasingly complex. At the forefront of vehicle technology, have confidence that with the Bosch ADS 325 or 625 you will be able to diagnose the vehicles that come into your shop today, and tomorrow. With unmatched service, support, information and people to help you along the way.
Both platforms include Domestic / Asian and European coverage with one subscription. Go even further and expand your diagnostic capabilities with the ADS 625 with industry leading full-system wiring diagrams and J2534 programming.
ADS 325
Full vehicle system coverage for Domestic, Asian and European brands
One Touch Auto ID, read/clear DTCs and DTC types from all controllers, view data PIDS, perform bi-directional controls, calibrations, resets, relearns provides complete diagnostic needs
On-tool and online repair information: confirmed fixes, maintenance procedures (brake/battery/TPMS/tune-up specs/other), component locations, key reprogramming, technical service bulletins (TSBs) and more
Fully optimized, easy-to-use software and workflows for fast navigation
OBD II cable with light and voltmeter to confirm battery voltage prior to scanning
Android 5.0 plus 64GB for fast processing, printing and file sharing
Built-in Wi-Fi and Firefox for full browsing capabilities
Compatible with other wireless accessories such as borescopes, battery testers, NVH analyzers and more to enhance your diagnostics
7" ultra-crisp high-resolution display for optimum viewing in all lighting conditions
5MP rear camera enables photos for sharing and Vehicle Scan Reports
Lifetime Warranty with an active, unlapsed diagnostics subscription
Includes:
ADS 325 tablet
AC power adapter
OBD II cable with light and voltmeter
If you haven't found the answers you were looking for,
Contact us for further information Diagnostic Support – Training – Product Information – Sales – Product Management