FX1234 | Refrigerant Management System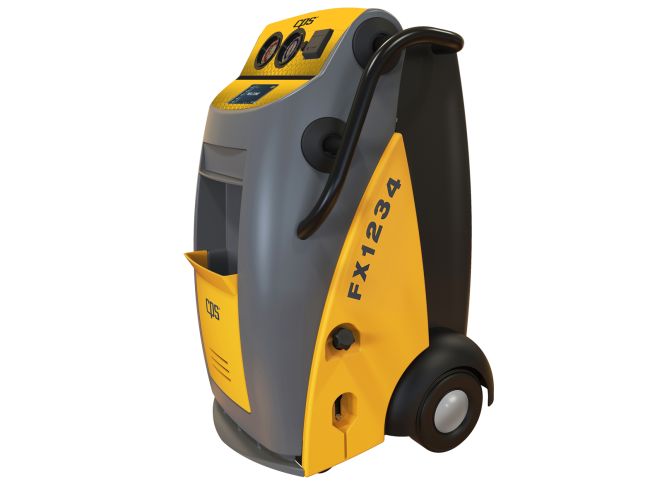 CPS Automotive proudly presents the latest in ease and endurance with its FX Series line of Refrigerant Management Centers that quickly and efficiently recover, recycle, and recharge automotive AC systems. 
Key Features
 7" Color touch screen control panel
Patented motor-controlled ball valves
Patented oil-less compressor
1-2-5 Warranty
All new ergonomic design
Displays maximum load up to 220 lbs. (up to 100 kg)
Refrigerant Management System monitors filter life and refrigerant usage
Certified to meet SAE J2843 for use in R1234yf systems
Also available without the internal refrigerant identifier : FX1234W. 
Note: Operation of the FX1234W requires the use of an external R1234yf refrigerant identifier (SKU: RI2012YF). 
Features:
 7" Color touch screen control panel
1-2-5 Warranty
Displays maximum load up to 220 lbs. (up to100 kg)
Foam-filled wheels
Refrigerant Management System monitors filter life and refrigerant usage
Hybrid compatible
Patented unique, fast and complete refrigerant changeover system
Supports multiple languages/UOM
Quickly access all functions from the main screen
'Car Health' Mode enables printing a snap-shot of pressures before and after service
Dual handle bars/hose drapes
2/3 HP OILLESS COMPRESSOR
 Designed and built by CPS for high capacity commercial applications
Eliminates failure issues due to improper oil filling of traditional compressors
MOTOR-CONTROLLED BALL VALVES
Opens wider for greater flow
Resistant to clogging of debris or sealants
Specifications:
Thermal printer standard on all models
Vehicle database (included) Refrigerant and oil charging data
50 lb recovery tank (two with FX3030)
Recovery rate = Up to 1 lb/min
6 CFM vacuum pump/ 10 micron rated
3.5" gauges
10' power cord
115v, 850 W
If you haven't found the answers you were looking for,
Contact us for further information Diagnostic Support – Training – Product Information – Sales – Product Management