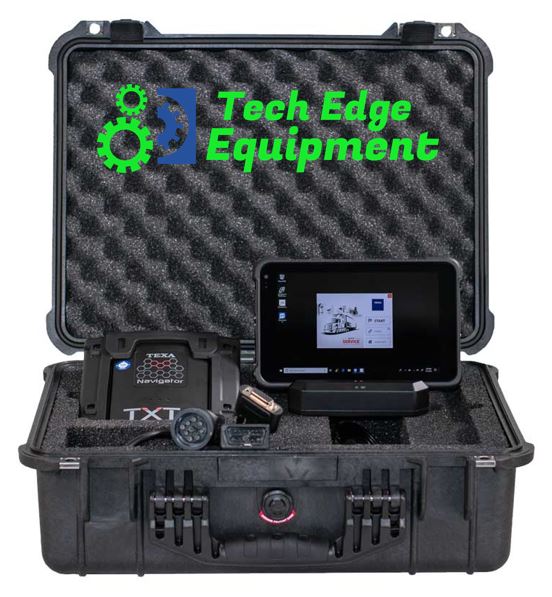 The TEXA Quick Service package is your solution for quick repairs, common bi-directional commands, and easy access to repair information. This tool, while not as powerful as our dealer level full function tool, still packs quite the punch. In general, this tool will allow you to:
Perform DPF Regens, Resets, and related commands.
Perform cylinder cut-out tests.
Change vehicle road speed.
Reset of maintenance lights for engine oil, transmission oil, and many others.
Perform DEF system tests and commands of components.
So TEXA is the tool for the job and will help you diagnose the problem faster because time matters!
Tech Edge is proud to present TEXA's newest software: Quick Service. An affordable solution to truck maintenance.
Quick Service is easy to use and navigate. We redesigned the way you do maintenance checks. Just a couple of clicks and done.
Accessibility to purchase IDC5 software and use with the same hardware.
Great addition to any shop that needs a secondary tool for jobs outside the shop.
Affordable price.
Extensive coverage.
Easy navigation.
Military grade protection.
Ultra-fast software.
Perform DPF Regenerations.
What is Included:
FULLY RUGGED TEXA TXT NAVIGATOR
8-INCH RUGGED TABLET
12-MONTHS OF SOFTWARE UPDATES
LIFETIME LICENSE SOFTWARE
AC ADAPTOR FOR TABLET
OBD 16 PIN CABLE
DEUTSCH 9 PIN ADAPTOR
CHARGING DOCK
 CUSTOM DESIGNED RUGGED IP67 CASE WITH CUSTOM FOAM INSERT
There wasn't much to improve. WE DID.
 NAVIGATOR TXB Evolution is the new tool that TEXA designed and developed specifically for the BIKE and MARINE diagnosis environments. 
It's hardware features make it compatible with all the current protocols for both environments and its integrated 16-pin CPC connector allows the use of all the diagnostic cables. It is extremely powerful, equipped with a 16 MBit SRAM and an 8 GBit NAND FLASH storage memory; these are very important features as they allow the mechanic to manage the map files easily. 
The supported CAN standards include the CAN single wire management and an extra CAN controller for the diagnosis on more than one network. 
Engine Coverage
CAT
Cummins
Cummins in Dodge Trucks
Detroit Diesel
Duramax
Ford 6.0L, 6.4L, 6.7L, & 7.3L
Hino
International
Isuzu
Mack
Mercedes Benz MBE900
Mercedes Benz MBE400
Mercedes Benz in Sprinters
Mitsubishi FUSO
PACCAR MX
PACCAR PX
Volvo
Transmission Coverage
ABS Coverage
Tablet Specifications
Windows 10 Home Edition 64-Bit
4 GB RAM
Intel Atom x5-Z8530 CPU @ 1.44 Ghz
64 GB Solid State Drive
2 USB Ports – USB 3.0 and Micro
HDMI Output
Bluetooth
Wifi
8 inch screen
If you haven't found the answers you were looking for,
Contact us for further information Diagnostic Support – Training – Product Information – Sales – Product Management