TYPE OF PRODUCT: DIAGNOSTICS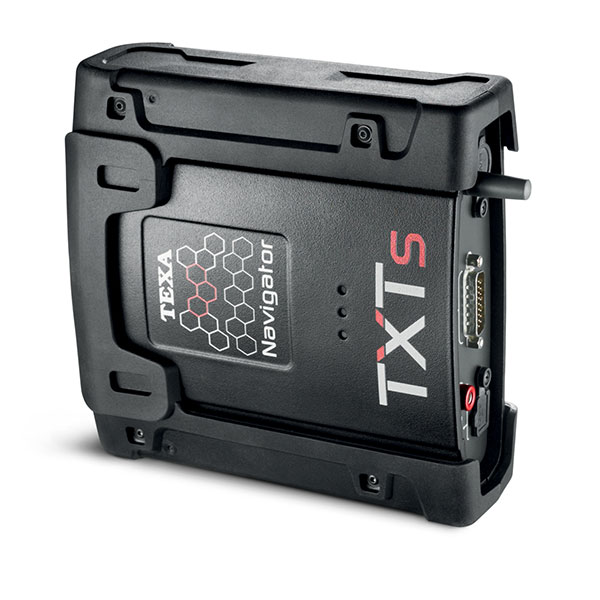 Multibrand diagnostics by TEXA
 Today the diagnostics tool is an essential piece of equipment for every vehicle workshop. Whatever the fault, it is likely that during each repair process the ECUs will need to be accessed to clear the fault codes or configure the replacement components, operations that are only possible using a diagnostic tool. 
Now even scheduled service and maintenance in many cases requires the use of diagnostic equipment, to reset the service lights and check or activate the various systems.
The NAVIGATOR TXTs is the latest multibrand diagnostic interface by TEXA; NAVIGATOR TXTs is a powerful multibrand diagnostics and autodiagnostics tool that connects directly to the vehicle's diagnostic socket, and communicates via Bluetooth with the AXONE Nemo, AXONE 4 Mini and MULTI PEGASO display units, or alternatively with a Windows PC. 
5 Environments in the one tool
 The NAVIGATOR TXTs is the most complete and versatile version in the range, and can be used on any type of vehicle. 
Wireless connectivity means users can carry out diagnostics testing while being free to move around the vehicle and workshop.
NAVIGATOR TXTs can perform all common autodiagnostics tests, including: read and clear errors, display engineering parameters and activation status, 
set and configure oil change, service and airbag indicator light reset, ECU configuration, keys and remote controls. 
PROCESSOR
CORTEX M3 STM32F103ZG 72 MHz, FLASH 1024 KBytes, SRAM 96 KBytes
MEMORY
SRAM memory: 8 MBits organized 512 KBytes x 16 bits, Memoria NAND Flash 1 GBit on bus a 8 bit
VEHICLE BATTERY
2 VDC and 24 VDC systems' management
EXTERNAL POWER SUPPLY
8 ÷ 32 Volt
USB COMMUNICATION
virtual RS232 via USB 2.0 Device
WIRELESS CONNECTION
Bluetooth class1 (30 m)
ELECTRONIC SWITCH
2-way, 13 independent positions
DIAGNOSTIC CONNECTOR
DSUB-26HD standard ISO 22900-1 
CONTROL UNIT REPROGRAMMING CONNECTOR
PV as required by the SAE J2534 protocol
ENVIRONMENTAL
Operating temperature: 0 ÷ 50 °C
Stocking temperature: – 20 ÷ 60 °C
Operating moisture: 10 ÷ 80 % senza condensa
DIMENSIONS
160x170x55 mm
WEIGHT
1 kg
SUPPORTED PROTOCOLS
Blink codes K, L (with current protection 100 mA), ISO9141-2, ISO14230; CAN ISO11898-2, ISO11898-3 SAE J1850 PWM SAE J1850 VPW SAE J2534-1
REGULATIONS
Directive: 1999/5/EC
Safety: EN 60950
Electromagnetic compatibility: EN55022, EN 55024, EN 301 489-1 
Radio 
If you haven't found the answers you were looking for,
Contact us for further information Diagnostic Support – Training – Product Information – Sales – Product Management